Huperzine A
Name: Huperzine A
Origin: Huperzinaserrata(Thumb.)Trev
Spec: ≥99.0%
Appearance: white Powder
CAS NO.: 102518-79-6
MW: 242.3162
MF: C15H18N2O
Formula: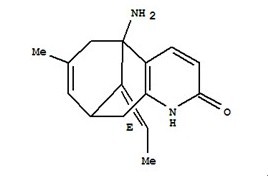 Effect:
Huperzine A has also attracted the attention of US medical science. It is currently being investigated as a possible treatment for diseases characterized by neurodegeneration –particularly Alzheimer's disease.It has been found to be an inhibitor of the enzyme acetylcholinesterase.The structure of the complex of huperzine A with acetylcholinesterase has been determined by Xray crystallography (PDB code: 1VOT; see the 3D structure). This is the same mechanism of action of pharmaceutical drugs such as galantamine and donepezil used to treat Alzheimer's disease. Huperzine A is also a NMDA receptor antagonist which protects the brain against glutamate induced damage, and it appears to increase nerve growth factor levels in rats.
Package: 1KG/bag
Clicks: Update time:2013-03-15
Copyright © 2017-2018 All Rights Reserved Copyright:Xi'an Herbking Biotechnology Co., Ltd 
陕ICP备15007638号-1
 Technical Support:
DuZhuo
免责声明:本网站部分图片和文字来源于网络,版权归原作者或者原公司所有,如果您觉得侵犯了您的权利,请告知我们立即删除,谢谢!