Notoginsenoside
Name: Radix Notoginseng saponins
Origin: Panax notoginseng (Burk.) F. H. Chen
Spec: 30%--80%
Appearance: Brown to light yellow powder
CAS NO.: 80418-24-2
MW: 933.14
MF: C47H80O17
Formula: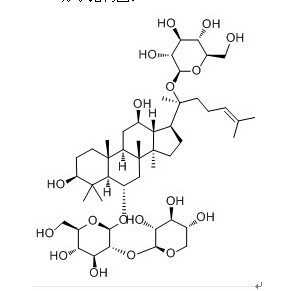 Effect:
1. Expanding blood vessel, improving blood, restraining blood platelet collecting and increasing brain blood stream.
2. Used in sequela of palsy hemiplegia.
3. Having good curative effect on lung and heart diseases.
4. Curing coronary heart disease and Hyper lipidemia.
5 .Having good effect on curing brain infarct.
6. Promoting synthetizing of protein RNA DNA and keeping human body healthy.
7. Promoting metabolism and balance of blood cell.
8. Enhancing study and memory ability.
9. Intensifing the function of organism immune.
10. It is anti-virus, anti-tumor,anti-inflammatory and anti-aging.
Package: 1KG/bag 25KG/dur

Clicks: Update time:2013-03-15
Copyright © 2017-2018 All Rights Reserved Copyright:Xi'an Herbking Biotechnology Co., Ltd 
陕ICP备15007638号-1
 Technical Support:
DuZhuo
免责声明:本网站部分图片和文字来源于网络,版权归原作者或者原公司所有,如果您觉得侵犯了您的权利,请告知我们立即删除,谢谢!