Coleus forskolin (Willd.) Briq. (Forskolin)
Name: Coleus forskolin (Willd.) Briq.(Forskolin)
Origin: Coleus forskolin Briq.
Spec: 10%--98%
Appearance: Brown to Light-yellow powder
CAS NO.: 66575-29-9
MW: 410.5
MF: C22H34O7
Formula: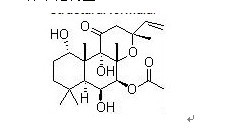 Effect:
Coleus forskohli is a perennial member of the mint, or Lamiaceae. It is now grown around the world as an ornamental plant. Forskolin is a chemical found in the coleus herb that activates the enzyme adenylate cyclase. Andenylate cyclase compound initiates a myriad of critical events and processes within all the cells of the human body. Adenylate cyclase and the chemicals it activates are responsible for executing a number of important hormonal processes. Stimulation that is caused by forskolin supposedly leads to blood vessel dilation, inhibition of allergic reactions, and possibly an increased secretion of thyroid hormone.
Package: 1KG/bag 25KG/durm
Clicks: Update time:2013-03-15
Copyright © 2017-2018 All Rights Reserved Copyright:Xi'an Herbking Biotechnology Co., Ltd 
陕ICP备15007638号-1
 Technical Support:
DuZhuo
免责声明:本网站部分图片和文字来源于网络,版权归原作者或者原公司所有,如果您觉得侵犯了您的权利,请告知我们立即删除,谢谢!