Usinic acid
Name: Usinic acid
Origin: Usnea diffracta Vain
Spec: 98%
Appearance: Yellow powder
CAS NO.: 125-46-2
MW: 344.32
MF: C18H16O7
Formula: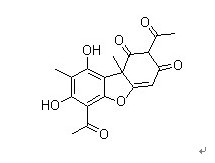 Effect:
Usnic acid is extracted from Usnea, Usnea, also known as old man's beard, is not a plant but a lichen—a symbiotic relationship between an algae and a fungus. The entire lichen is used medicinally. It is used as an antibacteria agnet in cosmetics and ointments to prevent skin infection. Usnea looks like long, fuzzy strings hanging from trees in the forests In natural remedies, especially in the veterinary medicine, Usnic Acid is used in powders and ointments for the treatment of infections of the skin. Usnic acid as a pure substance has been formulated in creams, toothpaste, mouthwash, deodorants and sunscreen products, in some cases as an active principle, in others as a preservative.
Package: 1KG/bag 25KG/durm
Clicks: Update time:2013-03-15
Copyright © 2017-2018 All Rights Reserved Copyright:Xi'an Herbking Biotechnology Co., Ltd 
陕ICP备15007638号-1
 Technical Support:
DuZhuo
免责声明:本网站部分图片和文字来源于网络,版权归原作者或者原公司所有,如果您觉得侵犯了您的权利,请告知我们立即删除,谢谢!