Name: Berberine Hydrochloride
Origin: Berberis thunbergii DC
Spec: 98%
Appearance: Yellow powder
CAS NO.: 633-65-8
MW: 407.85
MF: C20H18CLNO4•2H2O
Formula: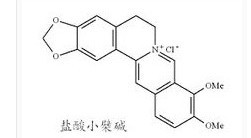 Effect:
the function of removing heat and damp, relieving fire and eliminating toxins;
the function of relaxing vascular smooth muscle and exciting other smooth muscle, such as bladder muscle, bronchial muscle and gastrointestinal muscel.
the function of antimicrobial and antibacterial.Berberine hydrochloride primarily for the treatment of bacillary dysentery, pulmonary abscess, brucellosis, acute tonsillitis, maxillary sinusitis, oral and maxillofacial inflammation embolism.
Package: 1KG/bag 25KG/durm