Anti-wrinkle/ aging series
Metallothionens ,MT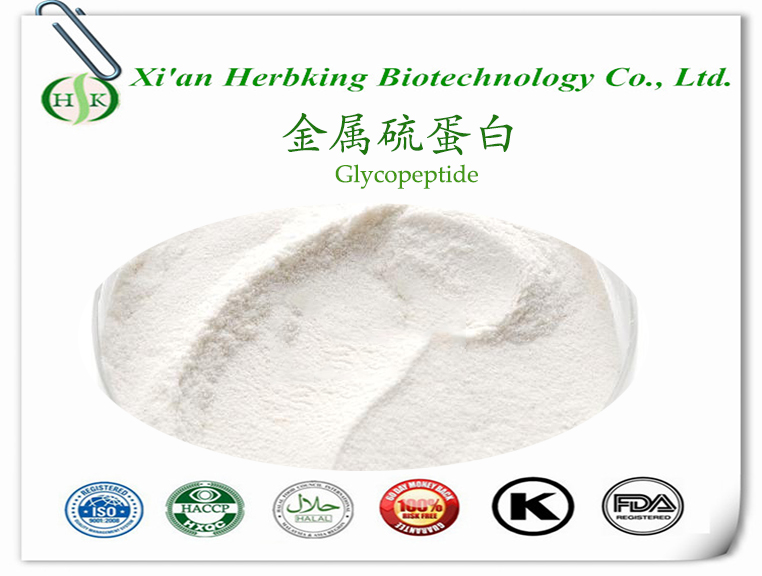 Name: Metallothionens ,MT
Origin: Bio-chem
Spec: 98%
Appearance: white powder
CAS NO.:
MW:
MF:
Formula:
Effect:
1. Protect the liver, treat various types of liver disease.
2. Treat tumour, release the side effects of chemotherapy and radiotherapy.
3. as a detoxifying agent can combine with toxic compounds, heavy metal ions or carcinogens and accelerate the eduction of these substances, which plays an important role in detoxification. And it can be used in poisoning treatment of acrylonitrile, fluoride, carbon monoxide, heavy metals and organic solvents, etc.
4. Treat eye diseases, in particular, apply to the treatment of cataract.
5. can balance the concentration of acetylcholine and cholinesterase, playing anti-allergic effect.
6. can prevent skin aging and pigmentation, reduce melanin formation, improve the antioxidant capacity of the skin and make the skin produce luster.

Package: 1KG/bag 25KG/durm
Clicks: Update time:2013-03-14
Copyright © 2017-2018 All Rights Reserved Copyright:Xi'an Herbking Biotechnology Co., Ltd 
陕ICP备15007638号
 Technical Support:
DuZhuo
免责声明:本网站部分图片和文字来源于网络,版权归原作者或者原公司所有,如果您觉得侵犯了您的权利,请告知我们立即删除,谢谢!